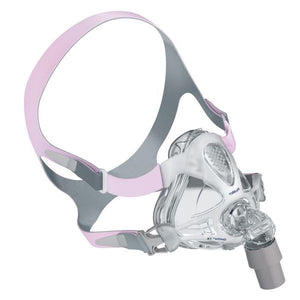 ResMed's Quattro FX For Her Full Face CPAP Mask is designed for women, sharing the same great features as the Quattro FX Full Face mask.
The streamlined Quattro FX For Her features a pink headgear designed lower on the back of the head allowing for use with a ponytail.
Fewer points of contact on the face create a more comfortable fit and allow for a more natural field of vision.
The flexible Spring Air cushion paired with the Swing Seal fitting technique help provide a good seal.