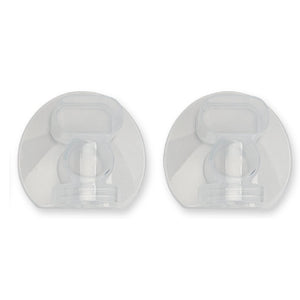 Lactation consultants agree that properly sized breast shields are vital for a comfortable and effective expression. These breast shields are compatible with the Aura Breast Pump. Utilize these breastshields along with the Aura Silicone Inserts to adjust size for a comfortable fit.
Please chat with our customer care team if you have any questions on sizing.
These breast shields ensure that every mother has a perfectly fitted set of breast pump flanges for comfortable pumping sessions.
Features and Benefits:
Compatible with the Aura Breast Pump and Aura Silicone Inserts avaliable in sizes 15MM, 17MM, 19MM, 21MM, 24MM, 28MM
Available in 29mm
BPA-Free
What's Included:
• 2 – Breastshields