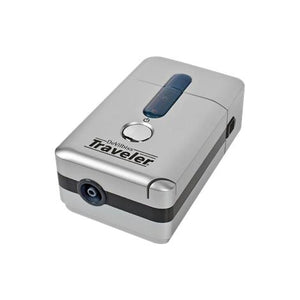 DeVilbiss Traveler Portable Compressor Nebulizer System is an ideal travel nebulizer machine for asthma.
It consistently turns liquid medicine to aerosol therapy and delivers it to the lungs in uniform concentrations at the touch of a button.
Devilbiss Traveler Nebulizer is a small, lightweight, and most portable compressor nebulizer in the market.
DC car adapter for nebulizer or optional Devilbiss 6910D-601 traveler replacement battery makes it easy and convenient to nebulize while traveling.