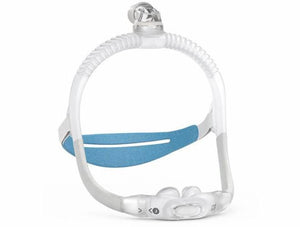 With the ResMed AirFit P30i, you'll be able to do almost any activity as you settle in for a night of restful sleep.
With no obstructions to your view, you can catch the end of the big game, read a favorite book, or surf the net!
It's all possible with the ResMed AirFit P30i Nasal Pillow Mask, as you'll have no obstructions and nothing stopping you from your favorite bedtime activities.
Sleep Close to Your Bed Partner Again!
80% Quieter Than Leading Nasal Pillow Masks
Enjoy Falling Asleep With Nothing Blocking Your View
Hollow Frame with Included Soft Wraps
Top of the Head Hose Connection is Great For Active Sleepers
Starter Pack Comes with Pillows in 3 Different Sizes